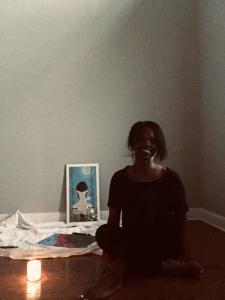 My work explores the nature of self. I enjoy observing the movement between inner and outer worlds. With influences derived from spirituality and pleasure, new layers are created and uncovered.

Ever since I was a child I have been fascinated by reality, always asking why and challenging everything I know. This has allowed me to grow and appreciate my interactions in the world with other people and nature.

The New Series Fly represented by beautiful birds and bright nature elements serves as another layer to the story. As one can get into the rhythm of life, the viewer is left with an insight into a world of stillness, beauty and grace.